FREELANCE FRIDAYS
(FREE FOR COLLEJ™ MEMBERS)
Get quality feedback from peers and industry leaders for free
Build career and confidence from quality feedback from peers and industry leaders.
What are the benefits?
For Design enthusiasts and aspirants to help them
Receive feedback on their designs & portfolios

Improve communication and presentation skills

Share knowledge and learn from others

Accelerate learning
Who is this for?
UX Enthusiasts
who want to seek quality feedback on their UX projects/works.
Design Students
who want to learn from real-world projects and feedback from the community.
UX Job Seekers
who want to crack their Dream UX Job and learn valuable lessons from industry leaders.
How it works?
Reserve your spot for any of the upcoming Friday

Present your work to a motivated UX Design Enthusiasts Community

Have in-depth conversations with community members & get tips from Industry leaders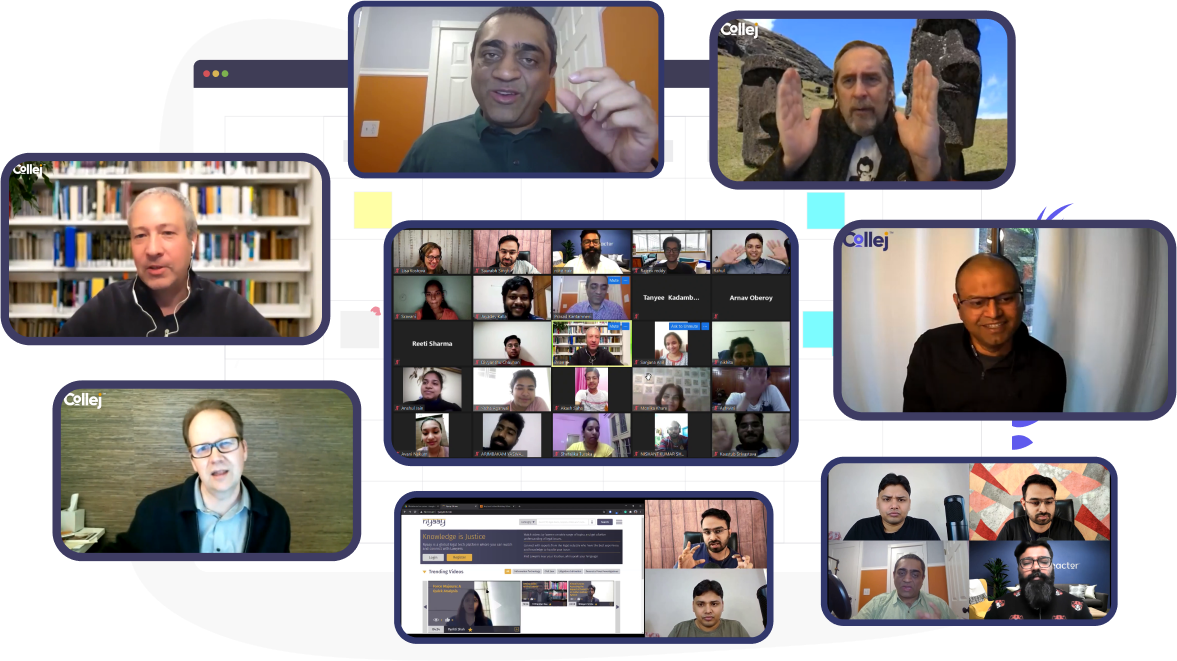 Here's what people say about us
Jeenal Hundiwala
I've done a few design courses online, but they were not interactive and didn't provide any industry knowledge. At Collej™ events you get to know the exact things you are expected to do as a designer in a job, and you will start looking at things from a different viewpoint.
Hrithika Singh
The main highlight of the Collej™ would be - how the current industry knowledge was presented in a way it is understood by everyone. I also got to know that communication skills are really important after taking up the Collej™ events.
Bhaskar Komara
My experience with the program showed me a path on how to actually structure our learning process and prioritize things. This helped me to build my confidence to explain the problem like an experience.
Want to present your UX project/work to UX leaders & peers, and get quality feedback?
Present you UX work/project for upcoming
Facing any issues? Reach out to us at
contact@uxrlabs.io
Hey Collej™ Member!
Want to present your UX project/work to UX leaders & peers, and get quality feedback?


Fill in the details and we will get back to you with the scheduled date and time.


Present you UX work/project for upcoming
Facing any issues? Reach out to us at
contact@uxrlabs.io
Become a Collej™ Member to get access to Freelance Fridays and also a lot of other benefits
Facing any issues? Reach out to us at
contact@uxrlabs.io
Introduction to
UX Research Processes
Only for this event
15th May - 17th May
Collej™ Membership
12 Months Access
Complete & Free Access to All the Workshops

Access to 1-on-1 Networking

Live Access to 30+ Expert Sessions

Insider Talks about what goes on in the industry

Access to 12 months - All Access privileges (15% off on all Collej™ Courses)
The Rockstar
UX Portfolio Workshop
Only for this event
31st May - 2nd Jun
Collej™ Membership
12 Months Access
Complete & Free Access to All the Workshops

Access to 1-on-1 Networking

Live Access to 30+ Expert Sessions

Insider Talks about what goes on in the industry

Access to 12 months - All Access privileges (15% off on all Collej™ Courses)
Collej™ Membership
12 Month Access to Workshops by Industry leaders teaching you how to build a Rockstar UX Career
Free access to monthly events

Freelance Fridays, Design Challenges, etc

Inspiring Insights & Networking Opportunities

Access to content curated by Global Leaders

Priority seats for any course

​Learn Industry Best Practices

​15% discount on all the courses
I only want to pay for this workshop
Collej™ Membership
12 Month Access to Workshops by Industry leaders teaching you how to build a Rockstar UX Career