Your Payment is Successful
You are a Collej™ Member now
Your account will be upgraded as Collej™ Members
hip
within 24 hrs
Meanwhile, explore all the benefits you have as a Collej™ Member.
Free Access
to
Invite Only
Weekly Events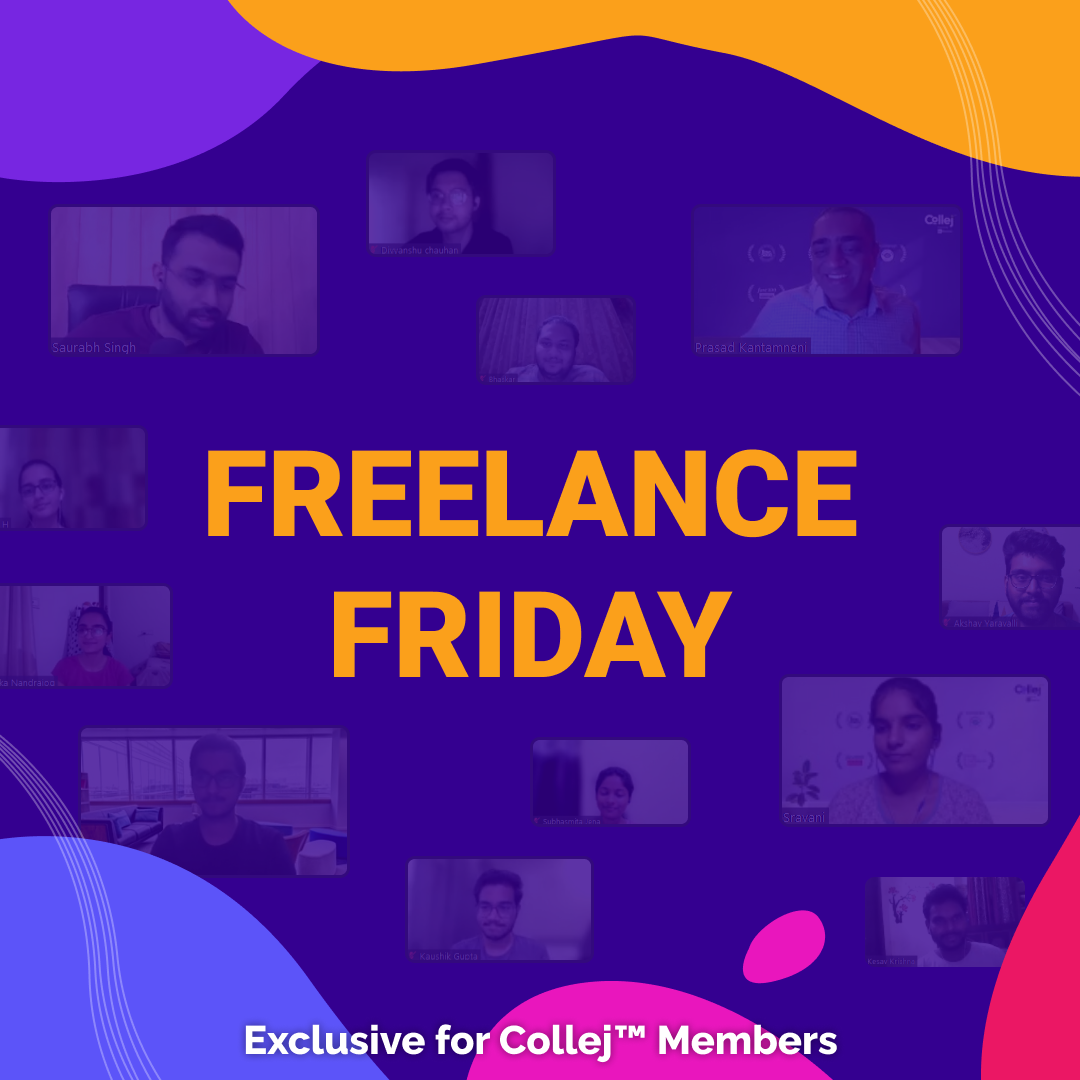 Freelance Fridays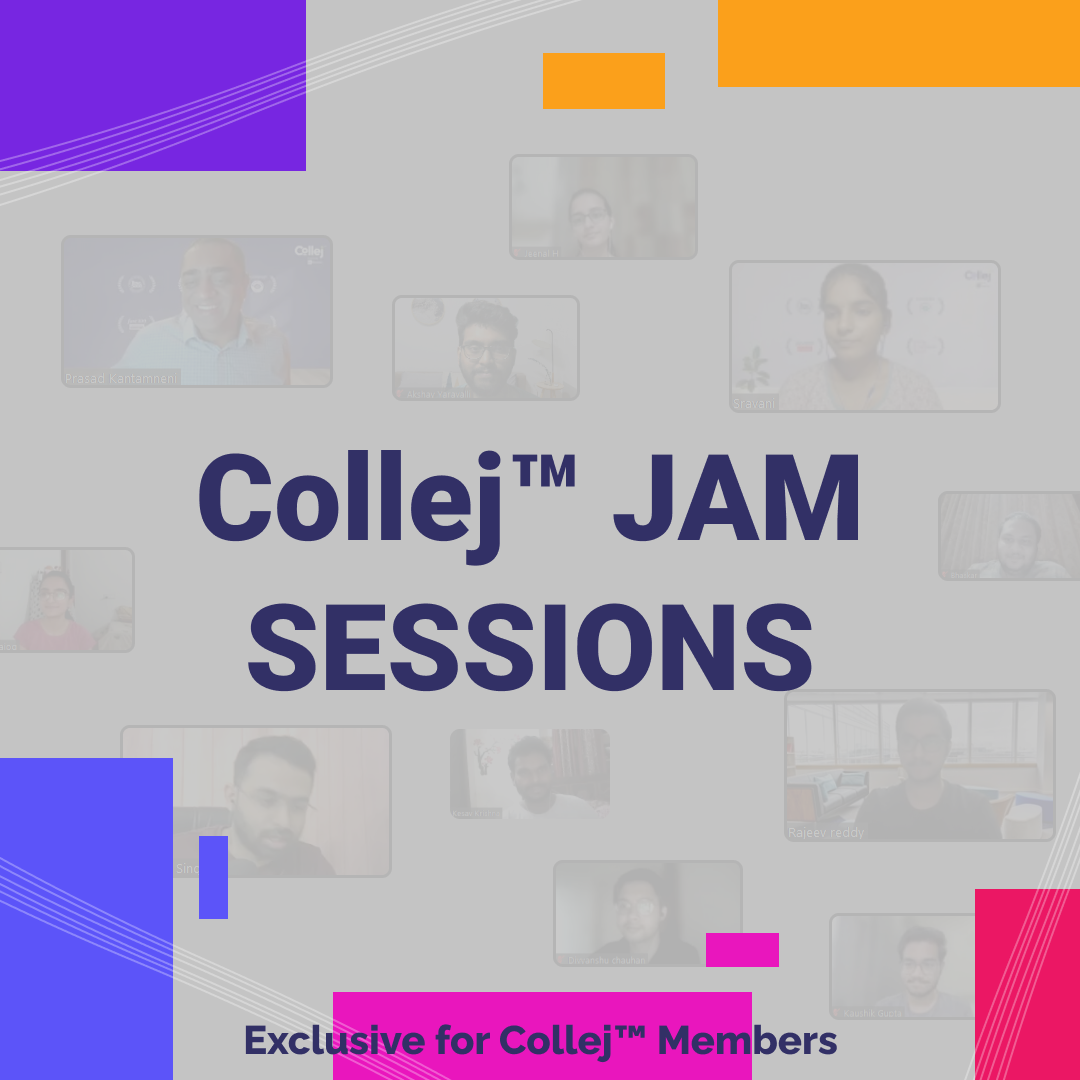 Collej™ JAM Sessions

(coming soon)
You will be receiving more details on your

registered email

for all the Weekly Events

1 day prior
You will be receiving informative videos, articles, quizzes , etc to keep you updated on the
current trends and knowledge!
Make sure to move our email from updates/spam so that you do not miss out on any mail from us!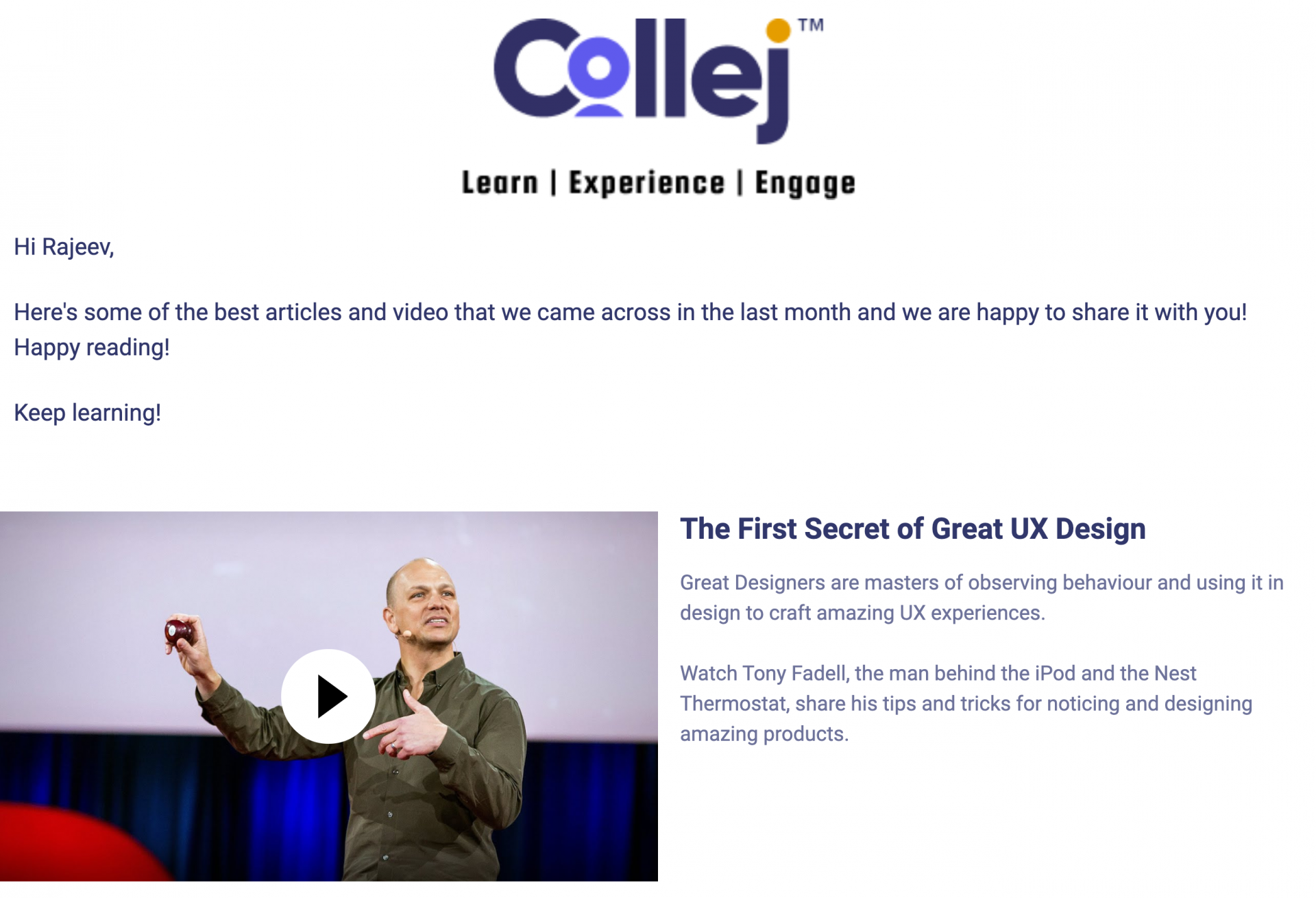 Free Courses -
Recommended by Instructors
Introduction to
UX Research Processes
Only for this event
15th May - 17th May
Collej™ Membership
12 Months Access
Complete & Free Access to All the Workshops

Access to 1-on-1 Networking

Live Access to 30+ Expert Sessions

Insider Talks about what goes on in the industry

Access to 12 months - All Access privileges (15% off on all Collej™ Courses)
The Rockstar
UX Portfolio Workshop
Only for this event
31st May - 2nd Jun
Collej™ Membership
12 Months Access
Complete & Free Access to All the Workshops

Access to 1-on-1 Networking

Live Access to 30+ Expert Sessions

Insider Talks about what goes on in the industry

Access to 12 months - All Access privileges (15% off on all Collej™ Courses)
Collej™ Membership
12 Month Access to Workshops by Industry leaders teaching you how to build a Rockstar UX Career
Free access to monthly events

Freelance Fridays, Design Challenges, etc

Inspiring Insights & Networking Opportunities

Access to content curated by Global Leaders

Priority seats for any course

​Learn Industry Best Practices

​15% discount on all the courses
I only want to pay for this workshop
Collej™ Membership
12 Month Access to Workshops by Industry leaders teaching you how to build a Rockstar UX Career
Free access to monthly events

Freelance Fridays, Design Challenges, etc

Inspiring Insights & Networking Opportunities

Access to content curated by Global Leaders

Priority seats for any course

​Learn Industry Best Practices

​15% discount on all the courses
I only want to pay for this workshop
How to Crack
Rockstar UX Jobs
Only for this event
17th - 19th July
Collej™ Membership
12 Months Access
Complete & Free Access to All the Workshops

Access to 1-on-1 Networking

Live Access to 30+ Expert Sessions

Insider Talks about what goes on in the industry

Access to 12 months - All Access privileges (15% off on all Collej™ Courses)
Get Access for 12 Months
Collej™ Membership
Complete & Free Access to All the Workshops

Access to 1-on-1 Networking

Live Access to 30+ Expert Sessions

Insider Talks about what goes on in the industry

Access to 12 months - All Access privileges (15% off on all Collej™ Courses)
How to Create Scalable UX Products Using
Design Patterns
Only for this event
24th - 26th July
Get Access for 12 Months
Collej™ Membership
Complete & Free Access to All the Workshops

Access to 1-on-1 Networking

Live Access to 30+ Expert Sessions

Insider Talks about what goes on in the industry

Access to 12 months - All Access privileges (15% off on all Collej™ Courses)
Deep Dive into
Nuances of UX Design Systems Workshop
Only for this event
11th - 13th Sept
Get Access for 12 Months
Collej™ Membership
Complete & Free Access to All the Workshops

Access to 1-on-1 Networking

Live Access to 30+ Expert Sessions

Insider Talks about what goes on in the industry

Access to 12 months - All Access privileges (15% off on all Collej™ Courses)
Decision Making for UX Practitioners using
User Personas and Journey Maps
Only for this event
23rd - 25th Oct
Get Access for 12 Months
Collej™ Membership
Complete & Free Access to All the Workshops

Access to 1-on-1 Networking

Live Access to 30+ Expert Sessions

Insider Talks about what goes on in the industry
Get Access for 12 Months
Collej™ Membership
Complete & Free Access to 12 Workshops for one year (No Recordings)

Access to invite only events like Feedback Fridays

Live Access to 30+ Expert Sessions (No Recordings)

Live Access to 30+ Expert Sessions (No Recordings)
Created with