Meet Your Mentor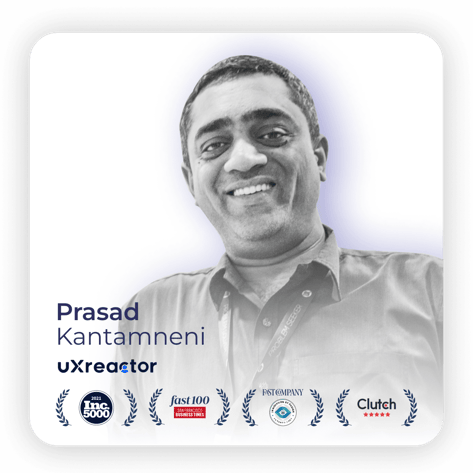 Prasad Kantamneni
Founder at UXReactor, Chief Coach at Collej™
Prasad specializes in data-driven design and spent 20+ years working with Fortune 500 companies.


He has trained design teams for MNCs across countries and built an inc 5000 company from the ground up!


💡Fun Fact: Prasad is responsible for building Yahoo!'s search assistance feature (also known as Search Suggestions), a feature that touches almost all internet users across the world today
26th Nov
, Saturday, 7:30 PM IST
Learn the Rockstar Way to Present Yourself throughout the UX Recruitment Process
Prasad will provide you an overview of how the UX recruitment process goes

​Learn how to present yourself throughout the recruitment process

Learn what recruiters look for when they try to hire a UX Designer
27th Nov
, Sunday, 7:30 PM IST
Learn to Design your Portfolio based on Your Strengths, and Mistakes to Avoid
Prasad will talk about how portfolios must be designed based on the specialization and common mistakes to avoid

​Surface Exploration of UX Research, Interaction Design and Visual Design Portfolio
28th Nov
, Monday, 7:30 PM IST
Learn the Rockstar Way to Communicate your Portfolio
Every Rockstar portfolio needs Rockstar communication

​Learn how to communicate your portfolio in a compelling manner

​Learn what mistakes to avoid
Earn a Certificate!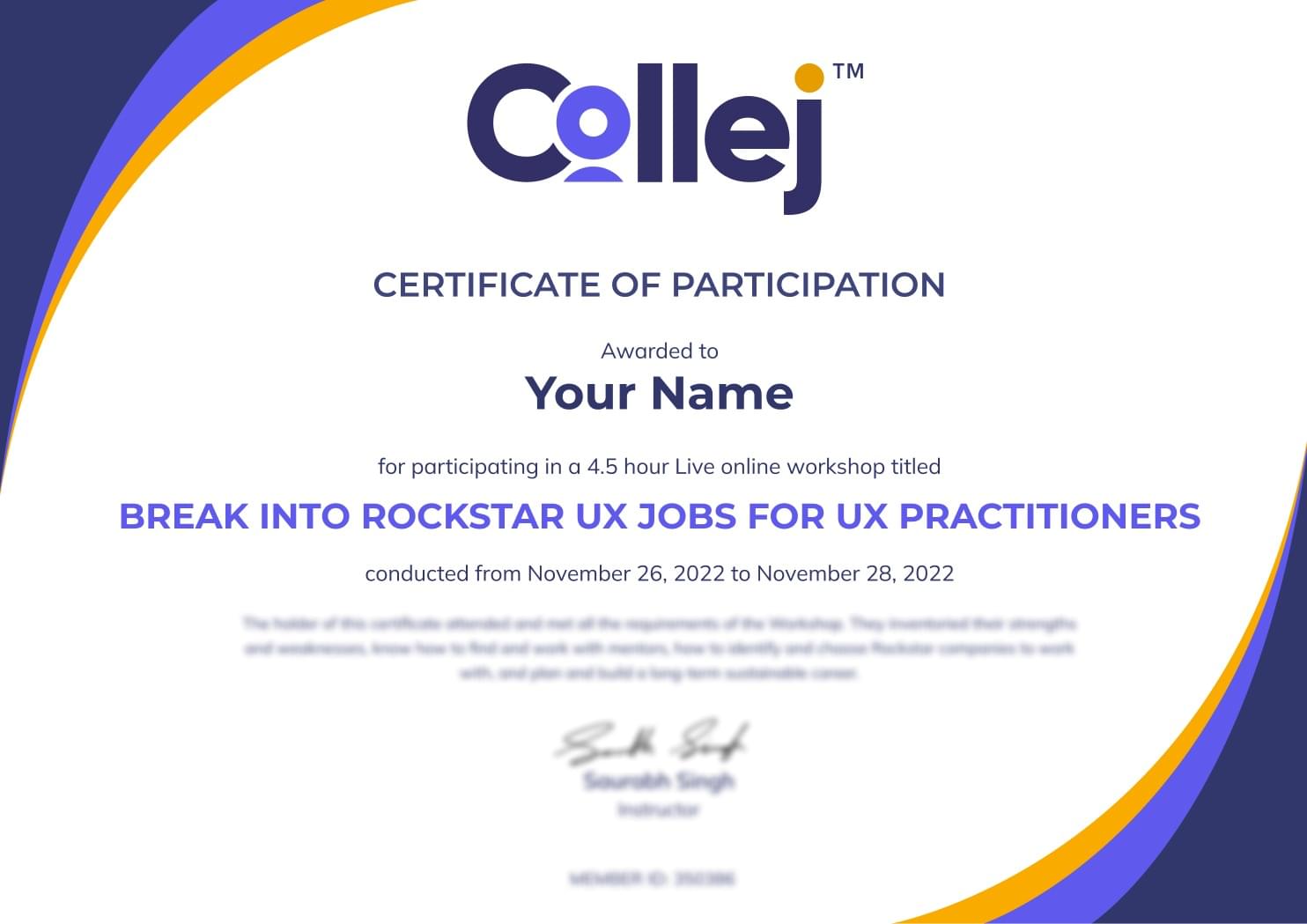 What People Like You Say About Us
Join Us Now
3 Days Workshop

LIVE Interactive Sessions

26th Nov - 28th Nov

Daily Assignments
Introduction to
UX Research Processes
Only for this event
15th May - 17th May
Collej™ Membership
12 Months Access
Complete & Free Access to All the Workshops

Access to 1-on-1 Networking

Live Access to 30+ Expert Sessions

Insider Talks about what goes on in the industry

Access to 12 months - All Access privileges (15% off on all Collej™ Courses)
The Rockstar
UX Portfolio Workshop
Only for this event
31st May - 2nd Jun
Collej™ Membership
12 Months Access
Complete & Free Access to All the Workshops

Access to 1-on-1 Networking

Live Access to 30+ Expert Sessions

Insider Talks about what goes on in the industry

Access to 12 months - All Access privileges (15% off on all Collej™ Courses)
Collej™ Membership
12 Month Access to Workshops by Industry leaders teaching you how to build a Rockstar UX Career
Free access to monthly events

Freelance Fridays, Design Challenges, etc

Inspiring Insights & Networking Opportunities

Access to content curated by Global Leaders

Priority seats for any course

​Learn Industry Best Practices

​15% discount on all the courses
I only want to pay for this workshop
Collej™ Membership
12 Month Access to Workshops by Industry leaders teaching you how to build a Rockstar UX Career
Free access to monthly events

Freelance Fridays, Design Challenges, etc

Inspiring Insights & Networking Opportunities

Access to content curated by Global Leaders

Priority seats for any course

​Learn Industry Best Practices

​15% discount on all the courses
I only want to pay for this workshop
How to Crack
Rockstar UX Jobs
Only for this event
17th - 19th July
Collej™ Membership
12 Months Access
Complete & Free Access to All the Workshops

Access to 1-on-1 Networking

Live Access to 30+ Expert Sessions

Insider Talks about what goes on in the industry

Access to 12 months - All Access privileges (15% off on all Collej™ Courses)
Get Access for 12 Months
Collej™ Membership
Complete & Free Access to All the Workshops

Access to 1-on-1 Networking

Live Access to 30+ Expert Sessions

Insider Talks about what goes on in the industry

Access to 12 months - All Access privileges (15% off on all Collej™ Courses)
How to Create Scalable UX Products Using
Design Patterns
Only for this event
24th - 26th July
Get Access for 12 Months
Collej™ Membership
Complete & Free Access to All the Workshops

Access to 1-on-1 Networking

Live Access to 30+ Expert Sessions

Insider Talks about what goes on in the industry

Access to 12 months - All Access privileges (15% off on all Collej™ Courses)
Deep Dive into
Nuances of UX Design Systems Workshop
Only for this event
11th - 13th Sept
Get Access for 12 Months
Collej™ Membership
Complete & Free Access to All the Workshops

Access to 1-on-1 Networking

Live Access to 30+ Expert Sessions

Insider Talks about what goes on in the industry

Access to 12 months - All Access privileges (15% off on all Collej™ Courses)
Decision Making for UX Practitioners using
User Personas and Journey Maps
Only for this event
23rd - 25th Oct
Get Access for 12 Months
Collej™ Membership
Complete & Free Access to All the Workshops

Access to 1-on-1 Networking

Live Access to 30+ Expert Sessions

Insider Talks about what goes on in the industry
Collej™ Membership
Complete & Free Access to 12 Workshops for one year (No Recordings)

Access to invite only events like Feedback Fridays (No Recordings)

Access to PUX™ Talks by Industry Experts
Recommend to your friends
Created with