Quarter 1: The UX Portfolio Builder Series
Learn industry standards

Get feedback on your work

Build a Rockstar portfolio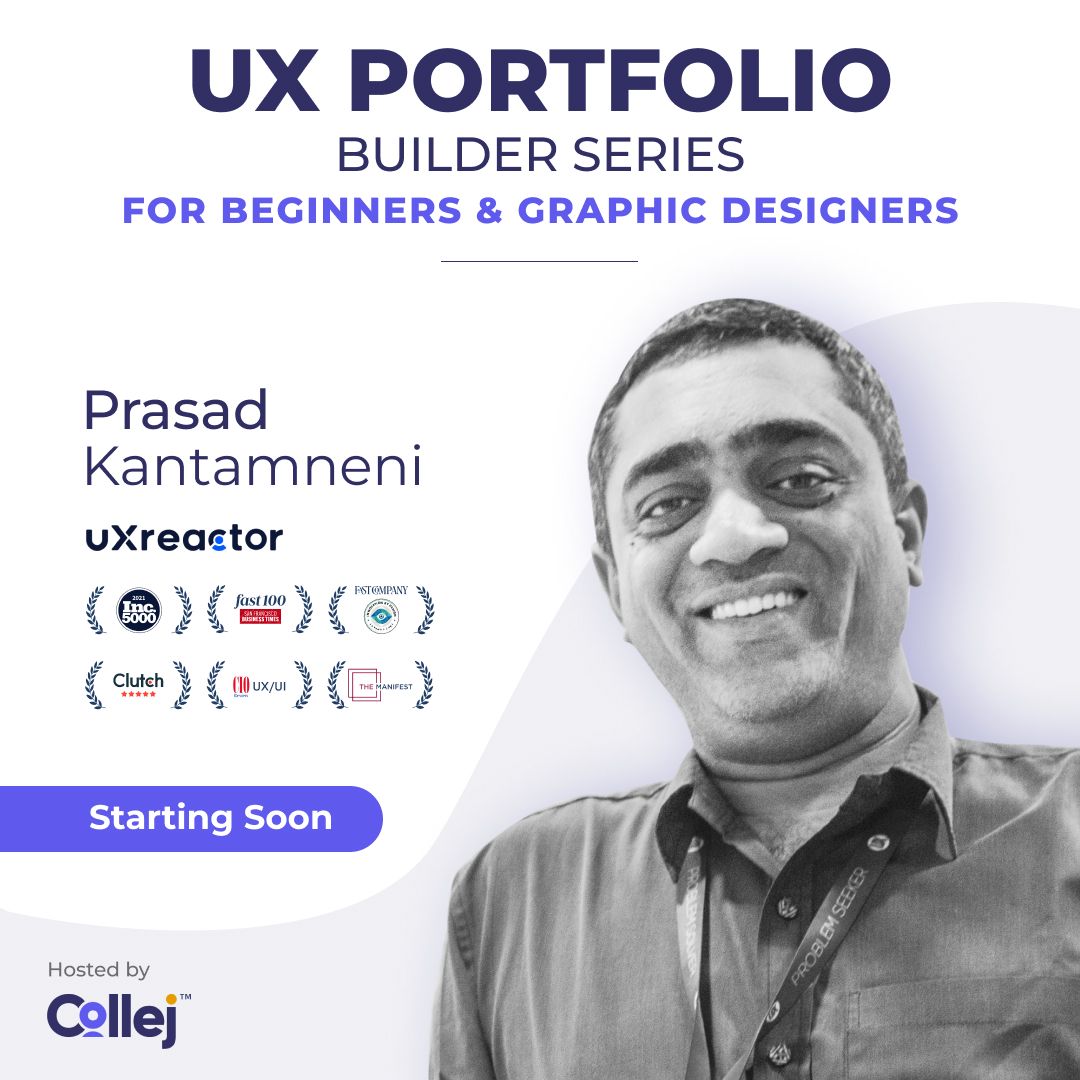 Exclusive Intensive Programs
PragmaticUX™ Intensive

- All Modules
10 Months
| Working Professionals with at least 1 Year of experience in UX Design field
Get mentored by Industry Experts

Learn concepts that you can apply in your work

Ability to solve problems and communicate in work environment

Collej™ Certification on completion
PragmaticUX™ Intensive -

Research Module
10 Weeks
| Working Professionals with at least 1 Year of experience in UX Design field
Learn industry standards and practices of conducting Usability Studies

Learn how to plan, conduct and analyze research

Deep dive into the execution of various research methodologies

Collej™ Certification on completion
PragmaticUX™ Intensive -

Kickstarter Module
4 Weeks
| For Beginners & Working Professionals
Live instructor driven Classes

Hands-On Critical Thinking Design Assignments

Learn to work in a team

Collej™ Certification on completion
Our Training Focuses On
Guidance from
Industry Leaders
Get Hands on experience to apply in the work environment
Focus on thought process rather than tools
Meet the Chief Instructor
Prasad Kantamneni
Founder at UXReactor, Chief Instructor at Collej™
Prasad specializes in data-driven design and spent 15 years working with Fortune 500 companies. One of his proudest achievements is using data to build a case and drive the launch of Yahoo!'s search assistance feature (also known as search suggestions), a feature that touches almost all internet users across the world today.



and Process Instructor
Saurabh Singh
Sr. Designer & Instructor, Training eXperience Lead

Saurabh designed products are currently being used by thousands of regular customers worldwide for firms with a combined 1 million+ international user base. He enjoys and specializes in visual design and ethnography that allows him to empathize with users and design eXperiences that touch people's emotions.

You will earn a Collej™ certificate that you can add on your resume after completing a program successfully
Here's what people say about us
Shashwat Shukla
The most unique part of this program was that the mentors were not there to give you the correct answers, their purpose was to make you reach the correct answer. This helped us push our mindset towards a more problem-solving mindset.
Ishika Nandrajog
The highlight of the training was the discussions and the Q&A sessions because we would not just be learning from the mentors but also the peers.
Ashwini Ratnam
Prior to the training, I did one online course from Coursera. It was theoretical - getting your facts and knowledge in, whereas the training was more on the industry side - introducing us to concepts and tips to be kept in mind while working as a designer in an actual company.
Bhaskar Komara
My experience with the program showed me a path on how to actually structure our learning process and prioritize things. This helped me to build my confidence to explain the problem like an experience.
Divyanshu Chauhan
On a few other platforms, they teach you about the theory and the concepts, but here they make you practice the concepts. So this is what I found different in this program and it really helped me a lot.
Jeenal Hundiwala
The Collej™ program was a completely new experience for me. I got to interact with different people coming from different backgrounds with different perspectives.The industry knowledge, discussions, challenges, and the support I have been getting from the Collej™ programs and the Community is one of the best that I have experienced.
Not Sure?
Get on a free call with one of the Collej™ mentors and get your questions answered
Collej™ Membership
Complete & Free Access to 12 Workshops for one year (No Recordings)

Access to invite only events like Feedback Fridays (No Recordings)

Access to PUX™ Talks by Industry Experts
Recommend to your friends
Introduction to
UX Research Processes
Only for this event
15th May - 17th May
Collej™ Membership
12 Months Access
Complete & Free Access to All the Workshops

Access to 1-on-1 Networking

Live Access to 30+ Expert Sessions

Insider Talks about what goes on in the industry

Access to 12 months - All Access privileges (15% off on all Collej™ Courses)
The Rockstar
UX Portfolio Workshop
Only for this event
31st May - 2nd Jun
Collej™ Membership
12 Months Access
Complete & Free Access to All the Workshops

Access to 1-on-1 Networking

Live Access to 30+ Expert Sessions

Insider Talks about what goes on in the industry

Access to 12 months - All Access privileges (15% off on all Collej™ Courses)
Collej™ Membership
12 Month Access to Workshops by Industry leaders teaching you how to build a Rockstar UX Career
Free access to monthly events

Freelance Fridays, Design Challenges, etc

Inspiring Insights & Networking Opportunities

Access to content curated by Global Leaders

Priority seats for any course

​Learn Industry Best Practices

​15% discount on all the courses
I only want to pay for this workshop
Collej™ Membership
12 Month Access to Workshops by Industry leaders teaching you how to build a Rockstar UX Career
Free access to monthly events

Freelance Fridays, Design Challenges, etc

Inspiring Insights & Networking Opportunities

Access to content curated by Global Leaders

Priority seats for any course

​Learn Industry Best Practices

​15% discount on all the courses
I only want to pay for this workshop
How to Crack
Rockstar UX Jobs
Only for this event
17th - 19th July
Collej™ Membership
12 Months Access
Complete & Free Access to All the Workshops

Access to 1-on-1 Networking

Live Access to 30+ Expert Sessions

Insider Talks about what goes on in the industry

Access to 12 months - All Access privileges (15% off on all Collej™ Courses)
Get Access for 12 Months
Collej™ Membership
Complete & Free Access to All the Workshops

Access to 1-on-1 Networking

Live Access to 30+ Expert Sessions

Insider Talks about what goes on in the industry

Access to 12 months - All Access privileges (15% off on all Collej™ Courses)
How to Create Scalable UX Products Using
Design Patterns
Only for this event
24th - 26th July
Get Access for 12 Months
Collej™ Membership
Complete & Free Access to All the Workshops

Access to 1-on-1 Networking

Live Access to 30+ Expert Sessions

Insider Talks about what goes on in the industry

Access to 12 months - All Access privileges (15% off on all Collej™ Courses)
Deep Dive into
Nuances of UX Design Systems Workshop
Only for this event
11th - 13th Sept
Get Access for 12 Months
Collej™ Membership
Complete & Free Access to All the Workshops

Access to 1-on-1 Networking

Live Access to 30+ Expert Sessions

Insider Talks about what goes on in the industry

Access to 12 months - All Access privileges (15% off on all Collej™ Courses)
Decision Making for UX Practitioners using
User Personas and Journey Maps
Only for this event
23rd - 25th Oct
Get Access for 12 Months
Collej™ Membership
Complete & Free Access to All the Workshops

Access to 1-on-1 Networking

Live Access to 30+ Expert Sessions

Insider Talks about what goes on in the industry
Created with